The Whittemore Co. represents manufacturers of several products and services in the broaching arena. Should your application call for standard keyway broaching tools and machinery, flat, form, round, serration or spline tooling, pullers, fixtures, holders or outsourced broaching services, we are your complete source. Also, repair, resharpening and reconditioning services are available. Please call or email us today! We will respond to your request promptly.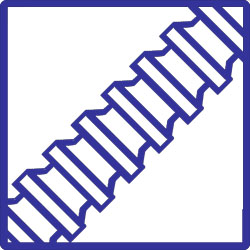 IA, IL, IN, NE, U.P. of MI, WI
Serving industry worldwide since 1968, Kingsford Broach and Tool, Inc. combines cutting edge technology with true craftsmanship to produce the finest cutting tools available anywhere.
As an ISO 9001 certified manufacturer, Kingsford Broach and Tool, Inc. is dedicated to providing you with the highest quality tools, at the best price, on time. Our commitment to customer satisfaction does not end with the delivery of quality tools. It is our belief superior service is as important as quality tooling. This belief is the driving force behind Kingsford Broach and Tool's quest to incorporate lean manufacturing principals as a means to ensure the highest quality tooling and the shortest possible lead times.
Kingsford Broach and Tool, Inc. specializes in round, flat, form, keyway, carbide, involute spline, and serration broaches. We offer complete engineering services utilizing state of the art CAD systems, as well as on-site troubleshooting and diagnostics. Our engineering department routinely designs complete broaching packages, including fixtures and holders. Kingsford Broach and Tool, Inc. also offers a full line of broach pullers and stocks a complete line of standard keyways. Complete turnkey broaching packages, including machines, are also available.
As a service to our customers, Kingsford Broach and Tool, Inc. offers repair, reconditioning, and sharpening services. Using state of the art equipment and the latest technologies, our craftsmen will return your damaged cutting tools to "as new" condition in the fraction of the time it would take for replacement.
View the online tour our Kingsford's new 40,000 sq. ft. facility here
To find out more about us, click on our logo!