The Whittemore Co. recognizes that component part marking and traceability are a growing portion of our customers' requirements. Should your application call for part marking or identification, we employ laser marking, dot peen, scribing, impact, roll, hot foil and other related marking technologies with standard, custom,and full turkey capabilities. Contact us with your requirements… We will respond to your request promptly.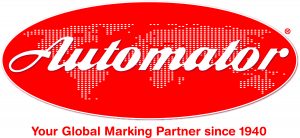 IA, IL, IN (portions), KS, U.P. of MI, MN, MO, ND, NE, SD, WI
Automator was founded in 1948 by Maurizio Barcilon has dedicated its 65+ year history to the industrial marking market.
The idea of the founder was that everyone, sooner or later, should have understood the importance of marking and so will become customers of Automator! This is not only because of legal requirements in some cases, but, perhaps even more often, it is a valuable process to identify, qualify, track, and promote a product.
In 1979 the leadership passed to Maurizio's son, Jacky Barcilon, who confirms the company's mission: design, production and sale machines and systems for marking, engraving, stamping, identify, codify, trace and decorate any product of any kind of surface.
Marking becomes a strategic marketing action that enhances the product and shares the image and the name of the company: think about product's decorations or marking – permanently – the company logo on the products…using the marking as a tool to increase the value of the product.
Our Values:
Automator products have been on the market for over 65 years, and we have always been a marking company. We have a passion for this industry, the desire to always innovate, staying ahead of the curve and often introducing brand new technologies, while continually demonstrating our strength and reliability.
The strong presence of Automator in the world, adds value for our customers. We pride ourselves on our ability to listen to our customers and hear and understand their needs.