The Whittemore Co. represents a variety of metal-cutting tool manufacturers of standard and high-performance solid carbide & HSS endmills, grooving and threading tools, thread milling tools, small diameter boring and grooving tools, coolant fed drills, taps, holders and coolant inducers, as well as special solid carbide round tooling.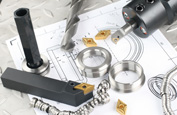 IA, IL, KS, U.P of MI, MN, MO, NE, SD, ND, WI
CERATIZIT Sacramento, L.P. is a premium manufacturer of solid carbide round tools. We specialize in high-performance solid carbide end mills in our PROMAX Premier, PROMAX Premium, and Design-Rite XL end mill lines.
Our primary focus is on quality assurance. Our quality management system concentrates on providing:
Defect-free cutting tool products and services
Open communication with our customers in order to better understand their cutting tool product and service needs and expectations
State-of-the-art manufacturing, process control and inspection equipment
Ongoing employee training to maintain product quality
And most importantly, our goal is to satisfy customer requirements and expectations 100% of the time.
In order to obtain these goals, we strive to maintain the leading edge in manufacturing technology and processes. We do this through the use of:
40 CNC cutter-grinders, with support robotics, consisting of Walter-Grinder, Rollomatic, Anca, Excalibur and True-Tech.
Machine software that is constantly updated ensuring the most current technology is utilized.
Use of a central network tool program repository which ensures consistency between production lots.
Design and engineering departments that are invested in CAD-CAM technology, and most notably, Walter-Grinder and Rollomatic simulation software that assists in the off-line design prototyping and programming of new standard and "special" (made to print) solid carbide cutting tools.
Accurate measurement and quality control of precision cutting tools, including PROMAX Tools' advanced CNC Measuring Machines, Laser Micrometers, Optical Comparators and Video Microscopes to 400x power. This equipment provides our technicians and our inspection department to meet the customers' most stringent tolerances and other requirements on virtually any tool dimension.
IA, IL, IN, U.P. of MI, MN, ND, SD, WI
It's possible that when you hear "The George Whalley Company," you think of industrial supplies. There's a good reason for that, considering George and Victor Whalley founded the company in 1937 as an industrial distributorship. What you may or may not know is that we introduced our Coolant-Fed Tooling & Systems Division in 1967 and have since become an industry leader in everything coolant-fed. We design, engineer, and produce a wide range of products, including:
Drills, reamers and cutters, end mills, taps, and spade drill inserts
Standard, modular rotary induced and automatic tool change holders
Manual rotary inducers and collars
Collets
High-pressure coolant pumps
Sealing devices and accessories
Retention knobs
KS, MN, MO, ND & SD
Dormer Pramet, located in Elgin, Illinois USA, began operation in 1880, and has over 20 offices worldwide serving over 100 countries, production facilities in Europe and South America. We are a global supplier of metal cutting tools to the general engineering industry. Our rotary and indexable tooling brands include Precision Twist Drill (PTD), Union Butterfield, and Dormer and Pramet.
Dormer Pramet's solutions include:
Turning
Milling
Hole-Making
Milling Cutters
Drills
Taps & Dies
Reamers & Countersinks
We passionately believe in building long-term partnerships, sharing our expertise and being honest and available at all times. These qualities are deeply rooted in the fabric of our company.
IA, IL, U.P. of MI, MN, ND, NE, SD, WI
Tool-Flo Manufacturing, Inc., located in Houston, Texas, USA, began operation in January 1978 and has grown into a 58,000 square foot complex operating multiple shifts and employing approximately 175 people. Tool-Flo serves the carbide metal-cutting tool markets throughout the world, selling through select industrial distributors. Tool-Flo is a member of the IMC Group.
Tool-Flo's Corporate mission calls for us to achieve and maintain leadership by designing and manufacturing standard and special inserted cutting tools that bring our customers an unparalleled level of satisfaction. Tool-Flo's ongoing commitment in pursuit of that goal is to produce "ultimate quality" insert cutting tools that exceed customer's expectations through meticulous manufacturing and innovative use of the latest state of the art CNC machine tools.
Today, Tool-Flo manufacturers and markets a wide variety of tooling solutions for the metalworking market. These solutions include:
Ball nose end mills
Deep grooving
Face grooving tools
Flo-Lock & Chip-Flo grooving & threading inserts
Laydown grooving & threading inserts
Small diameter boring tools
Thread milling tools
Turning tooling
Tool-Flo manufacturers the most COMPLETE line of API (American Petroleum Institute) inserts and holders in the industry.
Also, many different types of special inserts and soft tooling can be designed for your specific application.
Call us… we can help!